Are you a blogger? I'm guessing if that you've paid me a visit, you are. That, or you are my relative. But if you are not my relative, that's quite alright -- lurkers are welcome here.
I have a lot of people asking me how I created such a cute blog. Well I have to confess, I had nothing to do with it. I give full credit to my ultra talented friend Lyndsay J., graphic designer extraordinaire.
Do you want a cool blog too??? Well I'm going to tell you a secret. Lyndsay has an awesome website called The Blog Guidebook that is for all things blog. Here are just a few of the things you will find there.
You can list your blog on her site to create more buzz;

You can search for other blogs specific to your interests;

You can find cool places to shop and get creative ideas;

You can find out about giveaways;

And best of all . . . you can use Lyndsay's amazing tutorials to give your blog a boost.
I'm telling you . . . you have to pay this site a visit. It's full of great resources.
For example, I wanted a lovely font for my blog headings. Did you notice? They are new today!!! It was Lyndsay!! She wrote a post all about how to add cool fonts to your blog. She even listed websites that have free fonts.
Interested??? Then you better pay her a visit!! (Tell her Crystal B sent you.)
Click on the button here: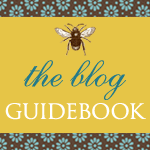 P.S. If you don't have a blog, and want to create one, then you definitely need to visit the The Guidebook. It's easier than you might think!